2023 Annual Meeting Announcement
Please mark your calendars and attend.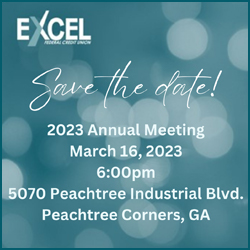 The Annual Meeting of the membership will be held on Thursday, March 16, 2023 at the main office located at 5070 Peachtree Industrial Boulevard, Peachtree Corners. The meeting will begin promptly at 6:00 p.m., and we hope to see you there.
As a member, you are part owner. Find out how your credit union has grown and intends to progress going forward. There are so many exciting things happening. Meet those who serve on the Board and have been instrumental in serving you and bringing you dedicated financial services to enhance your lifestyle.
Prizes will be awarded, and you must be in attendance to win. Look for details soon.
Remind the youth you know to apply for one of three $1,000 scholarships to be awarded by Excel FCU.
Do you know a 2023 graduating senior who could use an extra $1,000 to help progress their college pursuits?
We ask you, as a member, to encourage the youth in the communities we serve (Forsyth, Fulton, Gwinnett and Hall) to apply. Join us in brightening the educational future of a graduating senior who will be attending an accredited college in the Fall of 2023. Sometimes it just takes a word of encouragement. We invite you to be that person who will offer that guidance.
We have made the process simple. Application is solely online via our website.
By answering the verbal essay question: "How will you make an impact on the world?," via a 1-minute video submission to be uploaded to YouTube, independent judges will be able to view a created showcase of each applicant, and this will be added to the other weighted parts of their application. Philanthropic, scholastic, and extracurricular activities and involvement will also be considered in the process. To qualify, all parts of the application, and membership application, must be completed and submitted to https://www.excelfcu.org/scholarship-application, by the deadline of May 25, 2023, at 12:00p.m. Previously submitted applications/videos will not be considered.
For more and complete scholarship information please go to https://www.excelfcu.org/scholarship.
If there are any questions regarding any facet of applying please contact us at scholarshipscholar@excelfcu.org.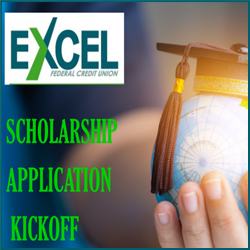 Avoid the chill of low CD rates, Warm up to our certificates!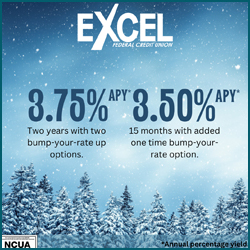 This is a volatile financial environment we live in. But as an Excel member, you know we are looking out for your best interest. That is why we are now offering very special promotional rates as high as 3.75%APY*. Simple as moving your CDs from another financial institution to us. With us you have trust. PLUS, you get the added security of knowing you can bump up the rate you sign up for at least once if our rates go up. It just takes a phone call to bump the rate up once you move your money over and secure your Excel certificate.
15 month certificates may be bumped up ONCE. 24 month certificates may be bumped up TWICE. We do the rest. You sit back and watch your earnings grow! How is that for peace of mind? We've got you!
This promotional offer is for a limited time and rates and terms may change at any time. NCUA insured. *Annual Percentage Yield.
January Skip-a-Pay…HURRY!
You still have time to skip your Excel payments in January! Need a little break from holiday overspending you may have done? Or just need a little peace of mind from bills for a bit? Skip one, or all of your payments, in January by simply completing the Skip-A-Payment form found on our website. It's that easy and takes seconds to apply. Skip-A-Payment ends on the last day of January so get YOUR form in today!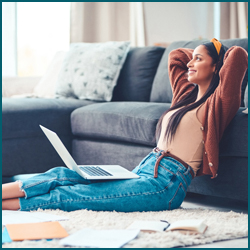 Community and Excel. We care.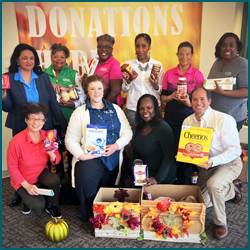 Just a little of what we have been up to lately…in November your Excel team donated over 150 items to those in need for the Thanksgiving holiday. Others on the team helped package and deliver. It is just another way we say "We Care" in our community.
During December, Excel and our team enthusiastically brought joy to several angels in our community. It was our way of showing children and seniors matter to us all.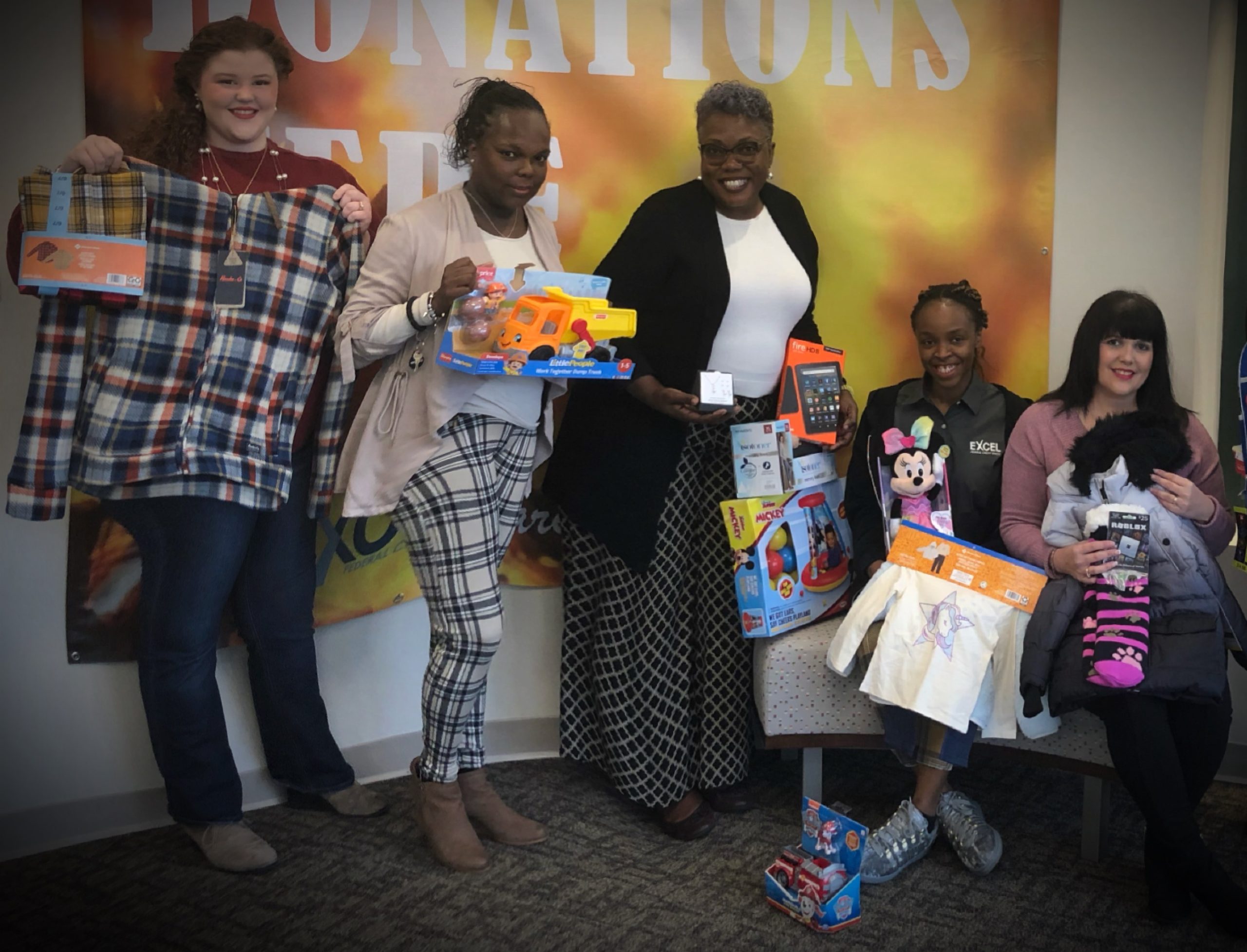 Our team was active again serving those who attended the Holiday Extravaganza promoted by the YMCA in Alpharetta. Excel team members gave a helping hand serving hot chocolate and helping wonder-eyed youth prepare their letters to Santa. A fun day was had by all. We are a part of our community and love it.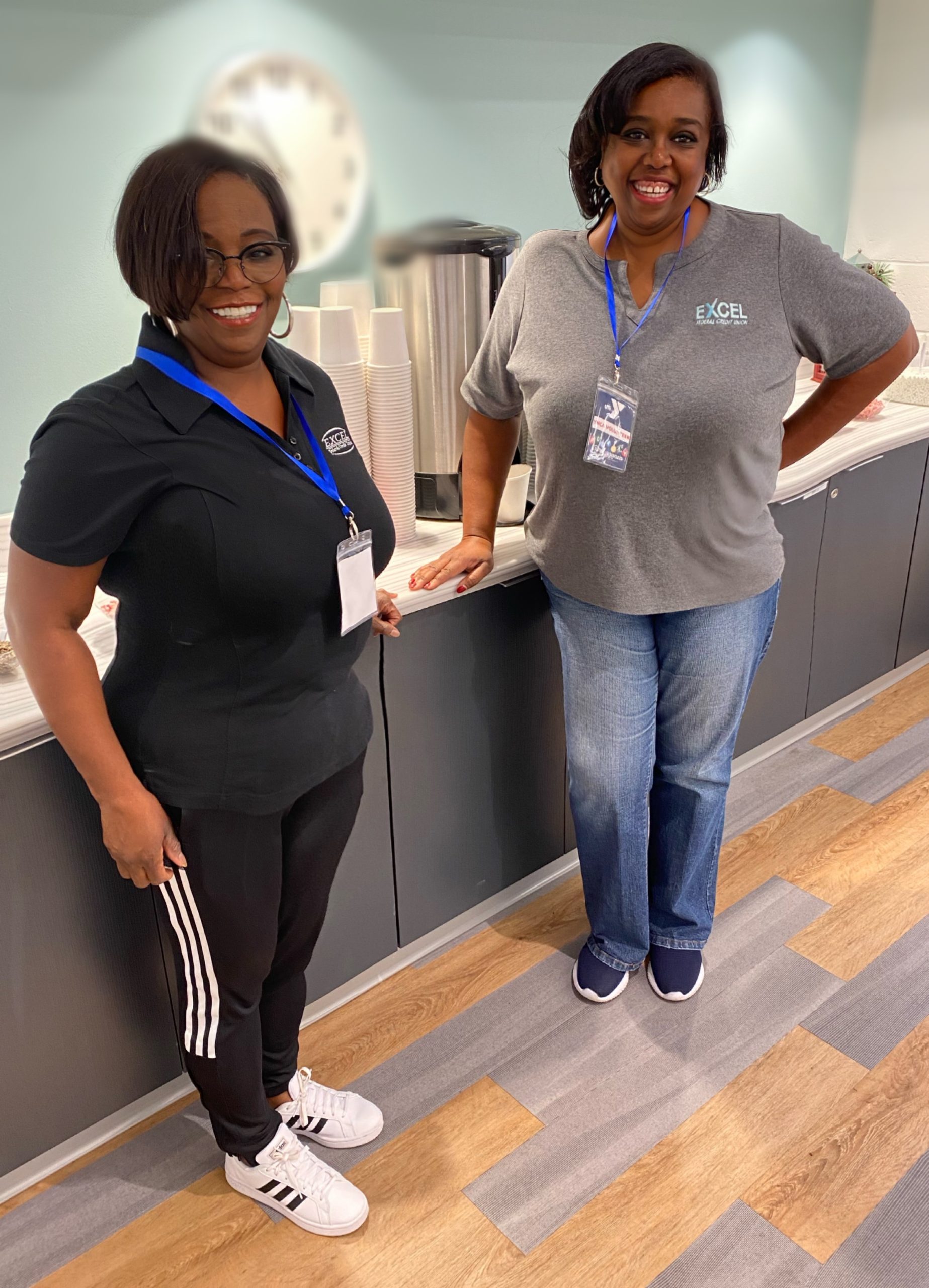 The Hot Chocolate bar at the Holiday Extravaganza was a huge success among adults and children alike. Your loyal and always smiling Excel team members Katrena (left), and Melodie (right). Serving community.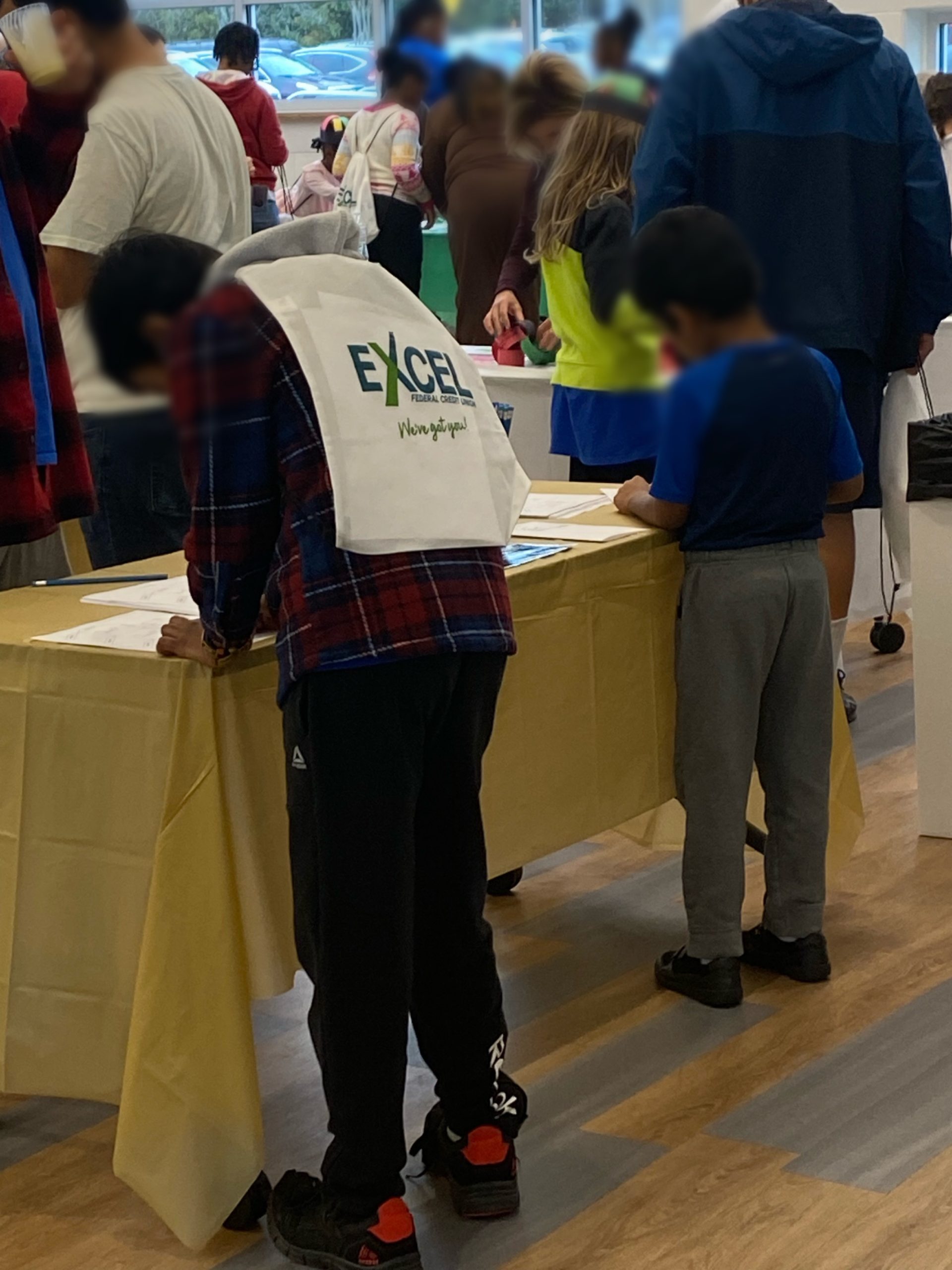 Congratulations to our $1,000 MasterCard/Excel debit card winner!
Congratulations Jose Negron for being a winner of $1000 from MasterCard/Excel debit card. Consistent use of his debit card paid off with big rewards for him as his name was drawn in MasterCard's national drawing.
In his excitement, Mr. Negron expressed his gratitude: "I have been a member of the EXCEL Federal Credit Union family for over 30 years. In my opinion, EXCEL FCU is everything a bank should be. The staff is professional, kind, and local. EXCEL also offers excellent online banking technologies. They've always shown me kindness, respect, and a friendly smile. I can't recommend them enough for all your banking needs."
We love all our members and share in his excitement in winning! Another way Excel means and lives by "We've Got You!" …for your financial and life needs.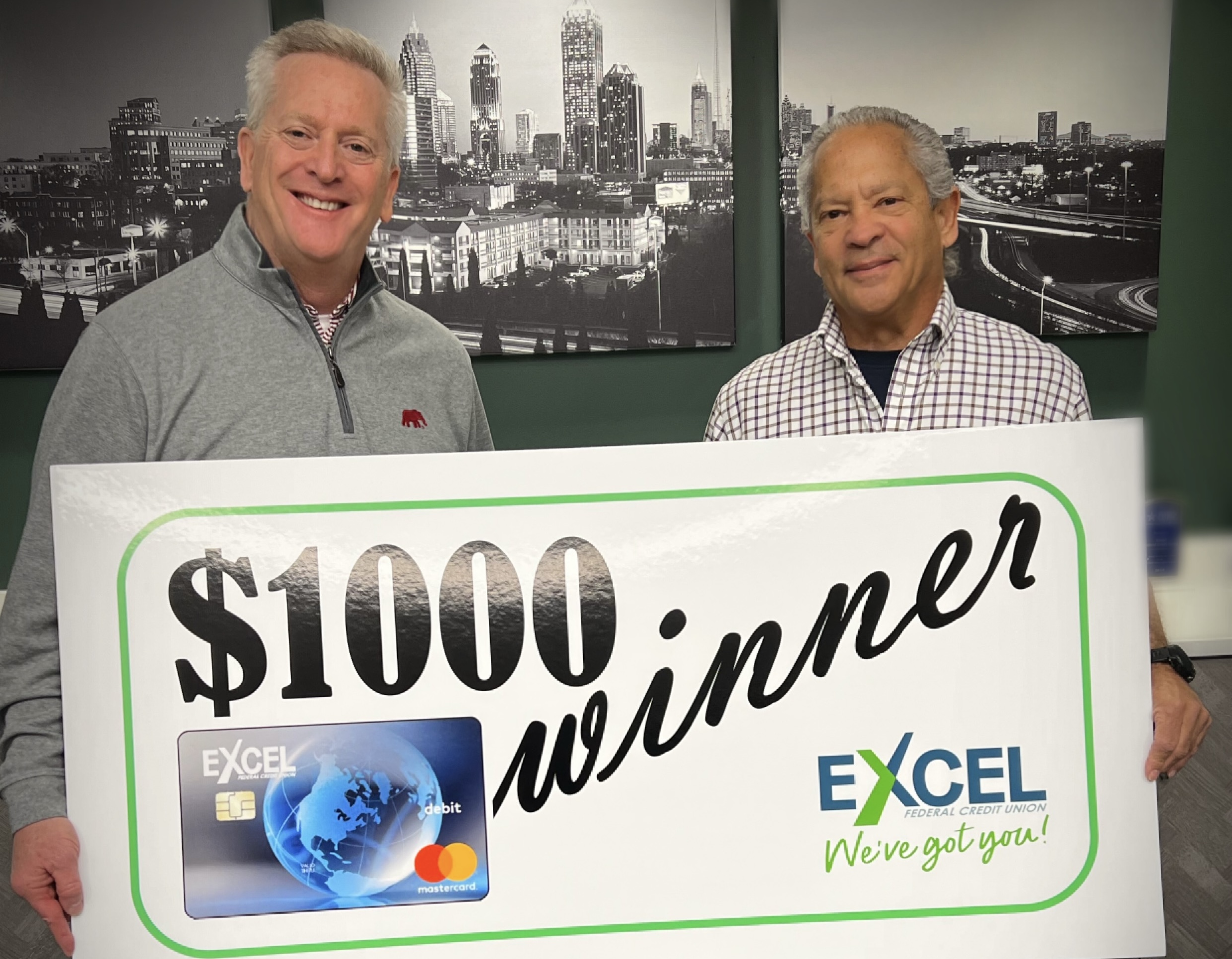 Tom Hayden (left), Excel President and CEO, presents long time member, Jose Negron (right) with MasterCard/Excel debit card winnings.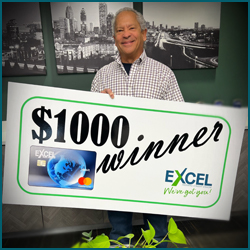 Empower those around you!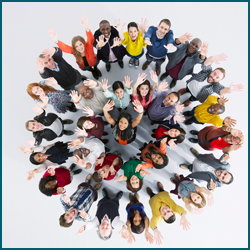 Look for bigger changes in 2023 to better serve you from Excel. We've got you! And we could help your friends, neighbors, and coworkers start 2023 off right too!
Offering the best of everything from competitive rates on virtually every kind of loan one could need, to expanding and new digital financial services, and finances right at your fingertips. And MORE!
Empower those around you. Share our QR code and put those you know on their way to financial freedom. They won't forget you did, and neither will you.

Please note changes to the credit union's Fee Schedule are forthcoming. Please be on the lookout for the updated schedule to come in your next quarterly financial statement. The new schedule will also be posted on our website at www.excelfcu.org.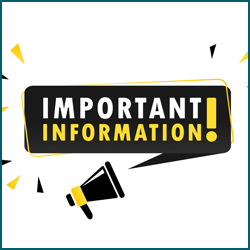 Credit Union Observances – Mark your calendar!
Mark your calendars now for Excel 2023 happenings and closed dates. Also remember we are there for you online 24/7/364. Your finances at your fingertips.
| | |
| --- | --- |
| January 2 (Monday) | New Year: All branches closed. |
| January 10 (Tuesday) | Training: Midtown branch closed until noon. |
| January 16 (Monday) | MLK Jr. Day: All branches closed. |
| January 31 (Tuesday) | Training: Midtown branch closed. |
| February 20 (Monday) | President's Day: All branches closed. |
| February 28 (Tuesday) | Training: Midtown branch closed. |
| March 16 (Thursday) | Annual Meeting: Main Office, begins at 6:00 p.m. |
| March 28 (Tuesday) | Training: Midtown branch closed. |
| April 25 (Tuesday) | Training: Midtown branch closed. |
| May 29 (Monday) | Memorial Day: All branches closed. |
| May 30 (Tuesday) | Training: Midtown branch closed. |
| June 19 (Monday) | Juneteenth: All branches closed. |
| June 27 (Tuesday) | Training: Midtown branch closed. |
| July 4 (Tuesday) | Independence Day: All branches closed. |
| July 25 (Tuesday) | Training: Midtown branch closed. |
| August 29 (Tuesday) | Training: Midtown branch closed. |
| September 4 (Monday) | Labor Day: All branches closed. |
| September 26 (Tuesday) | Training: Midtown branch closed. |
| October 9 (Monday) | Columbus Day: All branches closed. |
| October 31 (Tuesday) | Training: Midtown branch closed. |
| November 10 (Friday) | Veterans Day (observed): All branches closed. |
| November 23 (Thursday) | Thanksgiving Day: All branches closed. |
| November 24 (Friday) | Thanksgiving: All branches closed. |
| November 28 (Tuesday) | Training: Midtown branch closed. |
| December 25 (Monday) | Christmas Day: All branches closed. |
| January 1, 2024 (Monday) | New Year: All branches closed. |