Drive home for the holidays in a new ride!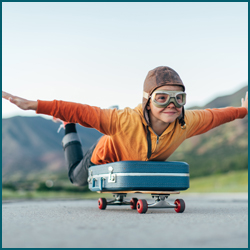 With massive new and preowned auto inventories available, and incredibly low loan rates, why not take the plunge and get a new ride you can drive home this holiday season?
You can even get pre-approved for your auto loan* at the credit union so you know your budget before you start shopping!
We offer:
Rates as low as 2.95% APR**
Easy repayment terms up to 84 months
Quick and easy loan pre-approvals & processing
Competitive GAP insurance and extended protection programs
Amazing loan refinancing deals
Drive home this holiday season in a new (or new to you) ride. Apply today!
*All loans subject to credit approval. Terms and conditions may apply. | **Annual percentage rate.
Sprinkle a little more love this holiday season
The EXCEL Holiday Loan is back!
Borrow up to $700
Special low rate of 9.99% APR*
Enjoy the low rate for 11 months
Apply online or text "Apply" to 770-441-9235.
*Annual percentage rate. Rates and terms subject to change without notice. Restrictions apply. Subject to credit approval and our underwriting standards. Membership eligibility applies. Equifax credit score of 550+ required. Must have direct deposit into EXCEL checking account and all EXCEL accounts must be in good standing. See credit union for full details.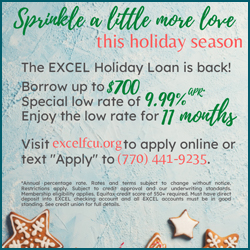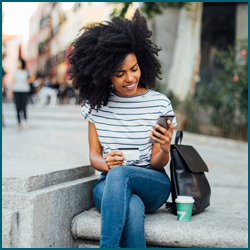 EXCEL wants to make your season brighter by extending our annual VISA Skip-A-Payment promotion. With no additional fees, VISA credit accounts in good standing will automatically skip their December and January payments! This is a great way to help make the seasons brighter and maximize your holiday budgets!
Wishing you a safe and happy holiday season!
Don't want to skip your payment? No problem! Just make your monthly paymes as usual. 
One VISA Skip-A-Pay request per member number. Participating in this program may extend the life of your loan. Interest, Credit Disability, Loan Life Insurance / Debt Protection premiums (if applicable) will continue to accumulate on your VISA account during the month you skip your payment. In order to qualify for the VISA Skip-A-Pay program, all of your Excel FCU accounts (including joint accounts) must be in good standing and you cannot have been delinquent on payments or caused the credit union a loss.
Even more to celebrate this holiday season with skip-a-pay
Skip your qualifying loan payment in November, December or January and use the freed-up funds to celebrate the season.
Get started now!
Terms and conditions: By signing the form at the link above, I/we understand and agree that my loan documents hereby amended to the effect that there will not be a payment due for the month indicated, that payment made after this skipped payment will continue to be applied first to interest with the remainder to principal and that interest will continue to accrue on the loan at the rate per annum specified in the loan documents. I/we understand that there will be a Holiday Skip-A-Payment fee of $25 and this fee being paid herein is a charge to which I am agreeing and that there is no change or adjustment being made in the interest rate specified in the original loan document. I/we also understand and agree that the final payment on the loan will be due one month after the date it would have otherwise become due without this skipped payment, and that the postponement of the scheduled payment and any other previously skipped payment. I/we also understand that this action will not change the amount or extend the period of any insurance coverage that may be on the loan. Any credit insurance benefits will be calculated according to the original loan terms and insurance certificate and may not fully cover the balance of the loan. This offer expires January 31, 2021.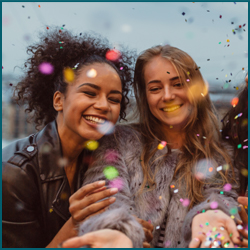 2020 Annual Meeting Recap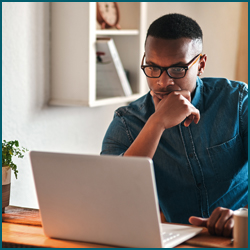 The 2020 Annual Meeting was held the afternoon of Thursday, September 17th. The meeting was postponed because of the pandemic, and as a result was held via GoToMeeting broadcast over Facebook Live. This was the first time the credit union held a virtual conference, and 51 members attended across both platforms.
Much of the conversation revolved around the credit union's response to the COVID-19 pandemic. Despite the global turmoil, the credit union did not decrease any services or raise fees to its members. Moreover, employees were not furloughed or laid off and were able to work safely through the pandemic.
The credit union continues to explore new ways to provide products and services to its members while keeping their wellness and safety top of mind. Advancements in automation, including a new web presence, have reduced the need for the member to visit a branch to complete their business.
EXCEL hopes to resume hosting Annual Meetings in person next year. The credit union appreciates the support its members have shown this year, and always.
It's time to cash out your Holiday Club Account! You've been saving all year, now enjoy the benefits of your hard-earned funds to help with your holiday shopping, travel and expenses. Withdrawal from your club accounts now through December 31st and enjoy no withdrawal fees!
Want to stash some cash for next year? Click here for more information.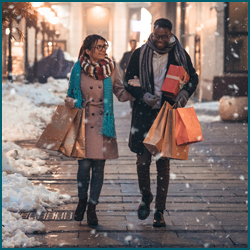 Change is a beautiful thing!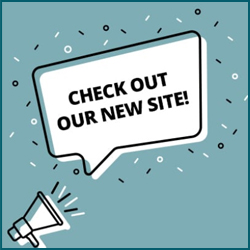 New season, new look! As the leaves begin to turn, the air begins to cool and the days become shorter, EXCEL is excited to share what we've been working on all summer – our new look! With a brand new logo and enhanced web presence, we're updating our look and providing an even better user experience!
Start by visiting our home page to experience our brand-new online branch! You can apply for loans online, open accounts, transfer funds…you name it…all from the comfort of your couch! Plus, our new site was designed with mobile in mind, so it's even easier to access your credit union information from your smart phone or tablet. Just one swipe of the thumb, and the credit union is at your fingertips!
Keep an eye out for our new logo as we continue to roll it out across our advertising, social media, communications and branches. We're excited for our fresh new look, and we hope you are too!
Looking for a competitive card to help you check that list twice?
For a limited time you can bundle up your debt and transfer it over to our low rate VISA credit card. You can save on interest while accessing a convenient and flexible payment option for your holiday shopping.
Our competitive credit card(s) offers:
No balance transfer fee
25-day grace period
Worldwide purchasing power
Ability to earn rewards as you go and more!
Shop your list and check it twice this year. Transfer your balance to our competitive VISA card today! Apply here.
*Annual Percentage Rate. All loans subject to credit approval. Terms and conditions may apply.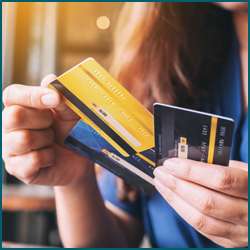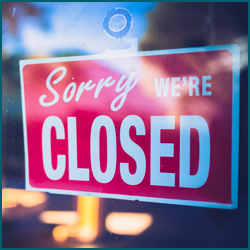 While our branches will be closed to allow our associates to celebrate with friends and family, our digital banking tools are available 24/7/365! Login to online banking to pay bills, send money, transfer funds and more. Plus you can apply for loans online or by texting "Apply" to 770-441-9235.
Veteran's Day – Wednesday, November 11, 2020
Thanksgiving – Thursday – Friday, November 26 – 27, 2020
Christmas Eve – Thursday, December 24, 2020 (closing at 1:00 p.m.)
Christmas Day – Friday, December 25, 2020
New Year's Day – Friday, January 1, 2021